Lawsuit: Botched Diagnosis Led to 30-Year-Old New York Teacher's Brain Hemorrhage Death
Legal Business | 2009/11/23 18:08



Melissa Fudge, who taught at PS 16 in Corona, died a year ago tomorrow. She had a history of ulcerative colitis when she was admitted to Long Island Jewish/Plainview Hospital in November 2008 complaining of vomiting and gastrointestinal pain accompanied by a searing headache and shooting pain in her left eye.

Doctors treated her for colitis, but her head pain continued, said her lawyer, Gerard Lucciola.

"They kept giving her transfusions and couldn't understand where all the blood was going," said her husband, Roger Fudge Jr. "They got tunnel-visioned on the colitis."

And, he said, the tragedy had far-reaching effects.

"It wasn't only me; it was my family, her family — her students, too," he said.

The suit, filed last week in Queens Supreme Court, seeks unspecified damages from the hospital and three doctors.
Doctors at a Long Island hospital failed to properly diagnose a 30-year-old Queens teacher's head pain in the days leading up to her death from a brain hemorrhage, a lawsuit alleges.
Microsoft Lawsuit Shows Malicious Advertising a Growing Issue
Legal Business | 2009/09/21 19:37

Microsoft announced on Sept. 18 that it has filed lawsuits against five entities that it claims have been spreading "malvertising," or online advertising used to port malware onto end users' machines. Microsoft is asking the court to shut down those entities, saying that they used Microsoft's AdManager service, which lets Website owners manage their own advertising inventory, to launch their attacks.

The lawsuits are just the latest leveled by Microsoft against spreaders of malicious code. Earlier in the summer, Microsoft's Internet Safety Enforcement Team filed a civil lawsuit in the U.S. District Court for Western Washington against what they described as a massive click-fraud scheme. In that case, the accused individuals had developed click-fraud attacks against online advertisements for auto insurance and World of Warcraft.

In 2009, Microsoft also targeted legal action against a party, Funmobile, which it accused of "spimming," or spreading links to possibly malicious software through instant messaging. Hong Kong-based Funmobile had apparently been sending instant messages to thousands of Windows Live Messenger users since March 2009.

The Sept. 18 filings represent yet another front in the battle.

"Our filings in King County Superior Court in Seattle outline how we believe the defendants operated," Tim Cranton, Microsoft's associate general counsel, wrote in an official Microsoft blog posting on Sept. 1. "In general, malvertising works by camouflaging malicious code as harmless online advertisements. These ads then lead to harmful or deceptive content."

Microsoft's court filings aim at entities using the business names "Soft Solutions," "Direct Ad," "qiweroqw.com," "ITmeter INC" and "ote2008.info," which Redmond says used malvertising to spread malware and scareware.
GOP argument: Don't give President Obama a blank check
Legal Business | 2008/10/24 01:49

(CNN) -- A new Republican ad appears to suggest that Barack Obama has al but won the presidential race, an argument several vulnerable Senate Republicans may have to reluctantly embrace with only days until Election Day, an expert in campaign advertising said.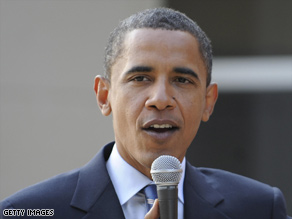 Some Republicans are already planning on a Barack Obama presidency.
Aimed at Kay Hagan, Sen. Elizabeth Dole's surprisingly strong Democratic challenger in North Carolina, the 30-second spot from the National Republican Senatorial Committee warns voters against Democrats holding the White House and Congress, and flatly states that if Hagan wins, the party will "get a blank check."
"These liberals want complete control of government in a time of crisis, all branches of government," the ad's narrator states. "No check and balances, no debate, no independence. That's the truth behind Kay Hagan. If she wins, they get a blank check."
Committee Online Communications Director John Randall denied that the ad is suggesting that GOP nominee John McCain will lose out on the White House.
"The NRSC is not conceding a Barack Obama presidency," he said. "Fiscally irresponsible liberals like Kay Hagan are not the answer in these tough economic times and would only make things worse. Our ad was intended to highlight Hagan's many failings in light of the Democrats' promise to close debate should they control the executive and legislative branches of the federal government."
But with polls warning of a GOP bloodbath November 4, vulnerable senators in red states may have no other option but to suggest that Obama will capture the White House and warn that the Illinois senator needs to be checked by Senate Republicans.

Watch more on the fight for battleground states »

"They are basically painting the picture that the presidential race is over," said Evan Tracey of Campaign Media Analysis Group, CNN's consultant on ad spending. "Overall, people prefer divided government. This is that divided government argument: 'Don't hand sole control over to one party.' "

[CODE][/CODE]
Mayor Addresses Philadelphia Bar Association
Legal Business | 2008/03/19 18:05

Philadelphia - Mayor Michael Nutter proved that he could work a room - even a huge one with hundreds of lawyers - at yesterday's Bar Association Quarterly Meeting and Luncheon in the Park Hyatt Hotel's grand ballroom.

The mayor's first address to the 13,000-member association, the oldest bar association in the country, was laced with humor although the mayor insisted that he's not a very good joke teller - he often forgets the punch line. But, he noted, he has impressive skills in sarcastic comebacks.

In a roomful of dignitaries, including Philadelphia District Attorney Lynne Abraham and the Honorable Ronald D. Castille, Chief Justice of the Pennsylvania Supreme Court, the mayor admitted that it was still "quite embarrassing" to listen to laudatory introductions of himself. "I hope soon we can just go with 'He's here!'"

Mayor Nutter acknowledged the awarding of the Bar Association's iconic golden snuff box, its highest honor, to the former Chancellor of the Bar Association, Jane Dalton, whose remarks preceded his. Ms. Dalton spoke of the strides the organization has made over the last year, including the retention and promotion of women attorneys.

Mr. Nutter, who promised no lawyer jokes and stuck to that promise, then addressed some vital issues affecting the city and its law community in his 30 minute remarks.

"Historically, lawyers have played a central role in government, and will hopefully continue to. Your pro bono efforts are critically important and you've handled diversity issues impressively."

The mayor also outlined his determination to change the public's mindset about city government, emphasizing that in some ways, the city is actually a $4 billion corporation with citizens as stockholders who, in his words, "...have the right to expect high quality services and the lowest possible cost."

The mayor's commitment to increase the population of Philadelphia by 75,000 people over the next five years would, he suggested yesterday, inure to the benefit of lawyers as well as other professionals and businesses in the city.

One of the comments that drew loud applause was Mayor Nutter's promise that in his sweeping ethical reforms, the days of "...who you are or who you are connected to are over."

One special plea to the legal community came with the mayor's urging of law firms to help lower the criminal recidivism rate in the city, which is currently a sobering 72 percent, by making efforts to give those who have struggled a break by hiring them. The same urging to the city's legal community concerned reaching out to young people who need mentors and models.
Upcoming NY Events in the Legal Community
Legal Business | 2008/03/09 03:27

Fri. March 7, CLE: Brooklyn Law School Symposium, 8:30 a.m.-1 p.m.
Brooklyn Law School hosts a symposium on the "Partial-Birth Abortion" ban, featuring eight speakers and professors. Continental breakfast included, luncheon to follow. Approved for (4) CLE credits, including (3) toward Professional Practice and (1) toward Ethics. Held at 250 Joralemon St. RSVP required by Monday, March 3. For information or to attend, contact Brooklyn Law School: (718) 780-7966. Fri. March 7, Free: Presentation on Student Loans, 6-8 p.m.
Speakers: Assistant Attorney General Matthew Eubank and Brooklyn mediator Eqwonna Purvis. Topic: student loans and navigating the application process. Tips for students on how to choose the student loan that is best for them. Held at Boys and Girls High School, 700 Fulton St., Brooklyn. Wed. March 12, Free Presentation: Sex Offenders & What Parents Need to Know, 9 a.m.-1 p.m.
Topics: Sex Offender Registration Act (Megan's Law); Internet predators; forensic evidence collection and DNA databanks; safety concerns. Held at Brooklyn College (Campus Road and Hillel Place), Gershwin Building, Levenson Recital Hall. Free and open to the public. Space is limited, pre-registration requested. For information or to register, contact the Brooklyn District Attorney's Office: (718) 250-3170. Wed. March 12, CLE: Ethical Issues in Part 137 Attorney-Client Fee Dispute Resolution, 6—8 p.m.
Speakers: Attorneys Domenick Napoletano, Frank Strafaci and mediator Alvin Rabinowitz. Approved for (2) CLE credits toward Ethics. Free to Brooklyn Bar Association members. Held at the Brooklyn Bar Association, 123 Remsen St. For information or to register, contact the Brooklyn Bar: (718) 624-0675 x210; fax: (718) 797-1713; or e-mail: malfano@brooklynbar.org. Mon. March 17, Spivack Award Presentation & Reception, 6 p.m.
Honoring former Congresswoman Geraldine A. Ferraro, Esq., the only woman to date to represent a major political party as a candidate for vice president (in 1984). Award presentation by U.S. Congresswoman Carolyn B. Maloney. A Women's History Month celebration hosted by the New York County Lawyers Association (NYCLA). Held at 14 Vesey St., Manhattan. For information, contact NYCLA: www.nycla.org.
Upcoming Events in the NY Legal Community
Legal Business | 2008/02/29 03:29

Thurs. Feb. 28, MBBA Fundraiser, 7:45 p.m.
The play "Cat on a Tin Roof," by Tennessee Williams. A fundraiser event for the Metropolitan Black Bar Association. For information, contact Dakota D. Ramseur: (646) 773-0073. Sat. March 1, CLE: NYSDA's 22nd Annual Metropolitan Trainer, 8:30 a.m.-4:45 p.m.
Speakers: Robert Epstein, Tom Klein, Joann Macri, Edward Nowak, Steven Zeldman. Approved for (6.5) CLE credits, including (1) credit toward Ethics. Held at Tishman Auditorium, New York University School of Law, Washington Square South, Manhattan. Registration required by Wednesday, Feb. 27. For information or to register, contact the New York State Defenders Association. Tues. Mar. 4, CLE: Evidence Update, 6–8 p.m.
Speaker: Professor Richard T. Farrell, Brooklyn Law School, and author Prince-Richardson on Evidence (11th ed. & Supp. 2008). Approved for (2) CLE credits toward Skills. Held at the Brooklyn Bar Association, 123 Remsen St. For information or to register, contact the Brooklyn Bar: (718) 624-0675 x210; Fax: (718) 797-1713; or email: malfano@brooklynbar.org. Tues. March 4, CLE: Appellate Practice, 6 p.m.
Speaker: Hon. Theodore T. Jones, NYS Court of Appeals. Approved for (1) CLE credit toward Professional Practice. Columbian Lawyers' monthly dinner meeting. Held at Rex Manor, 1100 60th St., Brooklyn (at 11th Avenue). Reservations required. For information or reservations, contact the Columbian Lawyers Association: (718) 875-0158. Thurs. March 6, BLSPI's 18th Charity Auction: Jeopardy, 5 p.m.; silent auction, 6 p.m.; live auction, 7 p.m.
Held at Brooklyn Law School in the Subotnick Center, (10th and 11th floors), 250 Joralemon St. Brooklyn Law Students for the Public Interest are seeking donations. The auction supports symposia, service trips and unfunded public interest summer internships. Information about the lots to be auctioned off will be available at www.blspiauction.com, as the date approaches. For information contact BLSPI: (718) 780-7549; or Michael J. Daily, fundraising chair: Michael.dailey@brooklaw.edu.
National Institute on White Collar Crime March 5-7
Legal Business | 2008/02/28 00:54

More than 1,300 legal practitioners, including judges, state and local prosecutors, law enforcement officials, defense attorneys and members of the academic community will convene in Miami for the 22nd Annual National Institute on White Collar Crime, hosted by the American Bar Association Center for Continuing Legal Education and the ABA Criminal Justice Section. This year's institute will deliver information on a variety of "white collar crimes," such as mortgage fraud, health care fraud, money laundering and many others.

This year's National Institute on White Collar Crime will take place March 5 – 7, with headquarters at the Miami Marriott Biscayne Bay.

The opening program, "White Collar Basics: The Fundamentals," a National Institute first, will feature information on navigating parallel proceedings, internal investigations, voluntary disclosures, and handling subpoenas and search warrants. Experienced practitioners will lead this discussion that is geared toward new white collar crime practitioners.

Panelists will also be on-hand to explore various aspects of the KPMG case, the largest criminal tax case ever filed. Ronald J. Nessim, co-chair of the ABA Committee on White Collar Crime, will discuss the KPMG case, covering areas such as attorney-client privilege waivers, deferred prosecution agreements and other related proceedings.

In addition, Under Secretary Stuart A. Levey, Terrorism and Financial Intelligence, U.S. Department of the Treasury, will provide the keynote address Thursday, March 6, during the White Collar Crime Committee Luncheon.

Breakout Session Highlights:



Thursday, March 6

"U.S. Sentencing Guidelines: A View from the Bench" offers a judge's perspective on the changes that have been made since the implementation of the new sentencing guidelines three years ago, 11 a.m.

"Criminal Intellectual Property Rights Enforcement" will consider the various issues that arise in connection with the criminal enforcement of intellectual property rights, including trademarks, copyrights and trade secrets, 11 a.m.

"Public Corruption: The FBI is Cracking Down and What White Collar Practitioners Should Know" will explore various issues that arise in public corruption investigations and trials, 11 a.m.

"Ethical Issues in White Collar Crimes" will include discussion on a wide range of ethical issues that arise in white collar investigations, including limitations on types of evidence, methods of obtaining evidence, contact with represented parties and other issues, 2 p.m.

"Money Laundering and Asset Forfeiture" will review recent developments and consider some of the more effective strategies for use in such cases, 3:45 p.m.



Friday, March 7

"Welcome to the Field of Healthcare Fraud Defense, Where Nothing Is Static and 'Victory' Is Hard to Define" will explore the government's investigation of the pharmaceutical and medical device industries, national chains and other healthcare providers, 11:15 a.m.

"Environmental Crime" will end the conference with discussion of current major prosecutions, the increase in work-place safety investigations and vessel pollution cases, 11:15 a.m.

For more information on the speakers and programs, click here.

National Institutes are known to members of the ABA and the legal profession as high-quality, carefully produced continuing legal education seminars held live at locations throughout the country. These 1-3 day conferences use a combination of lectures and workshops to present valuable information to the legal profession. In addition to the legal instruction offered, they provide a unique networking opportunity for lawyers and faculty who practice in the same or related areas of interest.

With more than 413,000 members, the American Bar Association is the largest voluntary professional membership organization in the world. As the national voice of the legal profession, the ABA works to improve the administration of justice, promotes programs that assist lawyers and judges in their work, accredits law schools, provides continuing legal education, and works to build public understanding around the world of the importance of the rule of law.
Copyright © ClickTheLaw.com. All Rights Reserved. Legal Marketing Blog. The content contained on the web site has been prepared by Click The Law. as a service to the internet community and is not intended to constitute legal advice or a substitute for consultation with a licensed legal professional in a particular case or circumstance. By using the www.clickthelaw.com you agree to be bound by these Terms & Conditions.

Law Firm Web Design by Lawyer Website Design - Lawyer Web Site Design That Works